It's nearly Christmas, and I just managed to complete BloodWish, the last book in the series. Yay! I'm so thrilled to finally release it, yet also a little sad at having to say goodbye to Alec and Laura. Their story was amazing to write, as well as so much fun.
I hope you enjoy reading BloodWish as much as I enjoyed writing it.
It's available at all digital retail outlets (links below), but the paperback won't be available until sometime early in the new year. I need to recoup some of my energy before I tackle that hurdle.
Now I have in mind to write Jake's story. I had originally planned to start with Terens, but it seems Jake is pretty adamant I tell his first. So, there it is. If all goes well, I hope to release his book this time next year. And I think it will be entitled, "Justinius." I love the old Roman names. Plus, there are too many books already published with the name Jake.
In the meanwhile, I'm elbows deep in Christmas baking. My kitchen wafts with the sweet aroma of freshly baked cookies and biscuits, while Christmas carols play in the background. The tree is up and decorating one end of my living room, while festive lights and ornaments twinkle at the other end.
I love this time of the year.
Afterwards, I'm simply going to relax by sitting and reading. I have a massive backlog of books on my kindle. It's going to be fun choosing from the three-hundred-or-so list of books on there.
I wish all my readers a very Merry Christmas, Happy Holidays and a safe and prosperous New Year.
And if you're after some reading material for the holidays - apart from my book series, of course - check out the selection below.
A passionate one night stand sparks a struggle between two worlds. A young Irish priest meets his match in the spirited woman he's sent to tame. And the Norse trickster Loki finds more than he bargained for when he partners with Thor to retrieve the Thunderer's lost hammer.
Sensual and poetic, this spellbinding collection of erotic stories from Samantha MacLeod transports you to a world where gods walk among mortals, the long-dead return to embrace the living, and the fires of passion burn bright enough to transform even the immortals.
Samantha Mc Leod's book is now up for pre-order at only $2.99
Best Friends to Lovers Romance
Elton.
I could summarize him in three words: My Best Friend
He was the stereotypical nice guy and a great support system.
The only problem was, that's not what women wanted. Including me.
I came up with this great idea to give him an identity overhaul, a makeover really.
I liked to call it the school for potential boyfriends,
A transition into being the kind of guy women wanted.
There also was one other problem.
I didn't know that the changes he made because of me would work so well.
I didn't know that I wouldn't like the sudden female attention they had for him.
I didn't know I'd like his "bad boy" image too much.
This wasn't part of the plan.
I couldn't stop thinking about him.
I didn't want to admit I was attracted to him.
I had to have him and I couldn't stop feeling that way.
Question is:  Did he feel the same way?
AUTHOR NOTE: This is a best friends to lovers romance. It has some adult scenes and language and thus you need to be 18+ to buy and read this book. Don't worry it ends in HEA.
Get it here: Amazon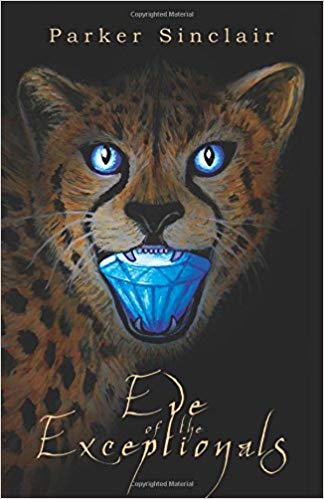 "Epic read for all lovers of fantasy." ★★★★★
"Spellbindingly brilliant YA fantasy for all ages." ★★★★★
"Luscious, rich, powerhouse read." ★★★★★
When fate brings the young Prince Ryzyn and the rover girl Gem together, not only do their lives become forever entwined, their meeting also ignites the power within an ancient object—the Heart of Cyan.
With the mystical Heart discovered, the wielder must prepare for an epic battle against a vicious, pervasive darkness that threatens all of Parlethis. Magical forces unite for the good of the land, but will that be enough to stop the Shadowland creatures from destroying them all?
Join the incredible journey full of magical beings, terrifying and majestic creatures, and the two young hearts destined to save a kingdom.
Be Swift ~ Be True
Eve of the Exceptionals is a YA Epic Adventure, HEA Romance full of swords, sorcery, archery, magic, monsters, witches, & danger for lovers of His Dark Materials series, Harry Potter, Stardust, The Princess Bride, & The Shannara series.
Get it here: Amazon 
You can also find more information about Parker Sinclair's books on her Amazon author page and on her website
Devastated by her cheating fiancé, surgery nurse Poochie Thibodeaux returns to her not-so-well-loved hometown and runs headlong into her high-school love. Guarding her soul against new wounds, she resists his seductive charm—with limited success.
Horse trainer Jack Holland, Jr. wagers all—his business and his heart—for a second chance with Poochie, the woman he never got over. Just when he hopes for their future, a vicious betrayal costs him his livelihood and, worse, makes him the prime suspect in a criminal investigation.
Jaded by infidelity and betrayal, can Poochie and Jack forgive based on trust alone?
This book is available on Book Funnel
Until the next time,
Happy reading and Merry Christmas
Tima